Best RV Wax
January 17, 2020 by Harken Headers
Everyone always thinks about what they want on the inside of their RV and how they will take care of it. The layout, features, slide or no slides, ect. What about the outside of your RV?
It is just as important to take care of the exterior to keep it in good condition for many years. So read on because here I will explain the benefits of RV wax as well as some good options that are both time and money efficient.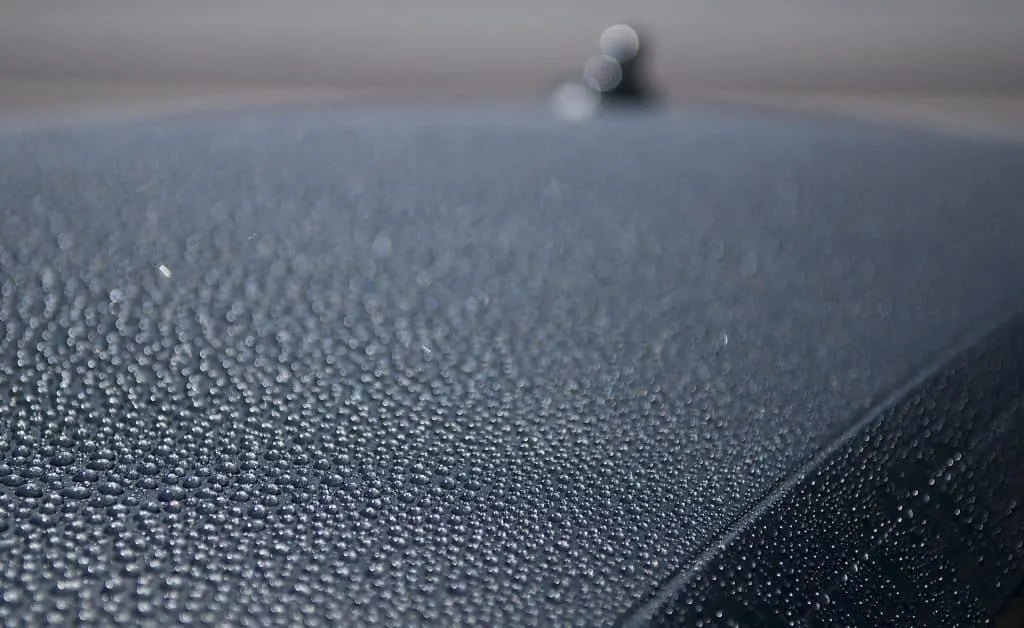 Keeping your RV waxed is a great way to keep it protected and looking new longer.
What Does Wax Do For My RV Anyways?
Glad you asked that question. Allow me to give you some examples that will convince you to think twice about skipping the wax on your next shopping list. Wax can:
Decrease the risk of oxidation-Oxidation can make that once shiny and new gel coat finish start to look cloudy or foggy. A good wax can help prevent that from happening.
Repel water-Wax can help prevent water spots or black streaks from forming on the exterior of your RV.
Act as a sunscreen for your RV-What I mean by that is wax can prevent UV rays from damaging your RV, especially the roof. UV ray damage can include cracking, fading and yes oxidation to your RV's exterior.
Prevent dirt and debris from building up-Dirt and debris can cause scratches, make your RV paint job look older, and can do other damage. Have no fear because some wax maintenance can help keep that in check.
Keep the exterior looking good and new-Why wouldn't you want your RV to keep looking good? There are so many perks to that such as being accepted by campgrounds with strict model and year rules or being able to stealth camp like a pro.
Report this ad
Spray On or Wax Off?
Well you have some options on how you want to go about waxing your RV. There's the wax in a container or in a sprayer. The sprayer is going to be more time efficient and easy for most. The wax in the container will be more affordable than the sprayer options. Both options are good, it's just a matter of preference.
Make sure to wax your RV in the shade to avoid water spots or swirls.
Some Key Notes Before You Wax
I know you are excited to go and wax your RV. I am excited for you. Let me give you some key notes to keep in mind before you start waxing your RV.
Wash before you wax-You don't want to wax in all the dirt and debris on your RV.
Stick to cooler times of the day to wash and wax-This prevents water spots from forming your RV from baking in the sun. Plus you get to stay cool too. Which will bring me to my next point.
Don't wax in direct sunlight-If your wax dries too quickly the finished job will not look good. Nobody wants to see swirls and water spots after a job like that.
Clean and dry one side at a time-This helps reduce water spotting as well. Also do a top down clean. You don't want to wash and rinse the roof last only to have to rewash the sides.
Have basic wash tools handy-A wash brush with an adjustable handle, squeegee, a bucket, RV soap, microfiber towels and wash mitts will come in handy for your wax prep work.
Report this ad
This article gives some good ideas on just RV cleaning in general. Now that the pre-wax prepping is done, let's get to the moment you've been waiting for!
Top Choice
Meguiar's Marine/RV One Step Cleaner Wax, M5032, 32 oz., Liquid
SALE
Meguiars-One-Step-WaxCheck Price on Amazon
This wax seems to do a little bit of everything, and best of all, in one step. Not only does it protect your RV but it helps restore and keep its shine with a non-abrasive formula. Let's look into some details about this product:
It helps remove minor oxidation, light scratches and swirls while protecting against UV rays, salt and corrosion.
This wax restores the color and gloss to the gel coat of your RV.
Also helps fight against rust.
You can buy in 16 ounces, 32 ounces or a gallon container.
This formula can be applied by hand, dual action polisher or a rotary buffer in one easy step. Let it dry and wipe off with a microfiber towel.
This wax does need to be applied on a cool surface and out of the sun. It is on the more pricey side compared to other products so that may deter those who are on a budget.
Runner Up
Meguiar's RV Wax Carnauba Blend, M5616, 16 oz., Liquid
SALE
Meguiars-Carnauba-WaxCheck Price on Amazon
Report this ad
The Carnauba Blend also has a lot of great qualities but falls a little short compared to the Top Choice Wax. So let's look into some of the details with this wax, shall we?
It enhances the gloss of your RV as well as keep it protected.
This product blends pure Brazilian Carnauba wax polymers and resins.
Good on dark colors.
Can be used on fiberglass, gel coat and painted surfaces.
Will keep your RV protected from harmful UV rays.
Available in 16 ounces or 1 gallon.
You can apply it by hand or machine similar to the Meguiar's One Step Cleaner Wax.
Although this wax helps protect your vehicle it won't help restore it or help fight against rust like Meguiar's One Step Wax can. It is a cheaper alternative to the same name brand. This wax does need to be applied in the shade and when your RV is cool.
Good Alternatives
Nu-Finish Liquid Polish 16 oz for Cars
Nu-Finish-PolishCheck Price on Amazon
Yes it does say polish and for cars but don't let that fool you. It has a long lasting quality to it. Let's jump into the details of this non-wax product:
It can be applied on fiberglass boats, motorcycles, planes, household items and yes your RV.
It protects your RV against things like salt, bird droppings, tree sap and tar.
This product is available in liquid or a soft paste.
Great for fast touch-ups and keeps your RV shiny even in between applications.
Made of zinc cross-linking polymer emulsions.
Has UV ray protection.
Easy application with no rubbing or buffing involved. Put a small amount in a damp cloth and apply it to your RV. Let it dry then wipe off. This doesn't need a shady spot for application.
Even though you can put Nu-Finish on many surfaces it shouldn't be applied on vinyl, plastic trim, simulated wood, flat paint or rubber. Looks like it is just available in the 16 ounce size. It won't restore your RV's surface if there's already oxidation or damage like the Top Choice Wax, but it is a good alternative if you are looking to just protect your RV on a budget.
Report this ad
303 Marine Quick Wax, 32 fl. Oz
303-Quick-WaxCheck Price on Amazon
303 Marine Quick Wax comes in a spray bottle so it is a little bit different compared to the other 3 choices. Here are some key details to this product:
It can be used on fiberglass, gel coat, paint, chrome, stainless steel and plastics.
Contains Carnauba wax. It's also 100% silicone free.
Has UV protection that lasts up to 30 days.
Helps remove water spots, dust and debris from your RV's surface and helps repel them.
You have to spray the wax in a misting form evenly onto your RV's surface. Then spread the wax with a microfiber towel. Make sure it dries to a haze before you buff the surface with a different microfiber towel.
It's not the cheapest nor the most expensive wax. You do need to apply this wax in the shade and make sure your RV is cool to the touch.The application does involve more steps compared to the other 3 waxes. If you are wanting to do a quick one step job this may not be the wax for you.
Giving your RV a good wax and cleaning on a regular basis will help keep the exterior strong and looking good for a long time.
Report this ad
All these products have some great qualities to them and can offer good protection for your RV to keep it in great condition for awhile. These choices will get you a quality product that is easy on the wallet and good on time. So what are you waiting for? Give your RV the protection it deserves and get to waxing!Categories